I know this isn't all that relevant for you as an Indian investor but this data goes to show the power of an idea – passive investing, in this case. This also reminds me of this quote:
You can kill a man, but you can't kill an idea.

Medgar Evers
In India, we are in the very very early stages of Indexing and we have a long way to go. There's about Rs 4,600 crores in index funds and Rs 1,18,000 crores in ETFs. The big ETF number is courtesy of EPFO flows but the pickup in index fund assets is all retail.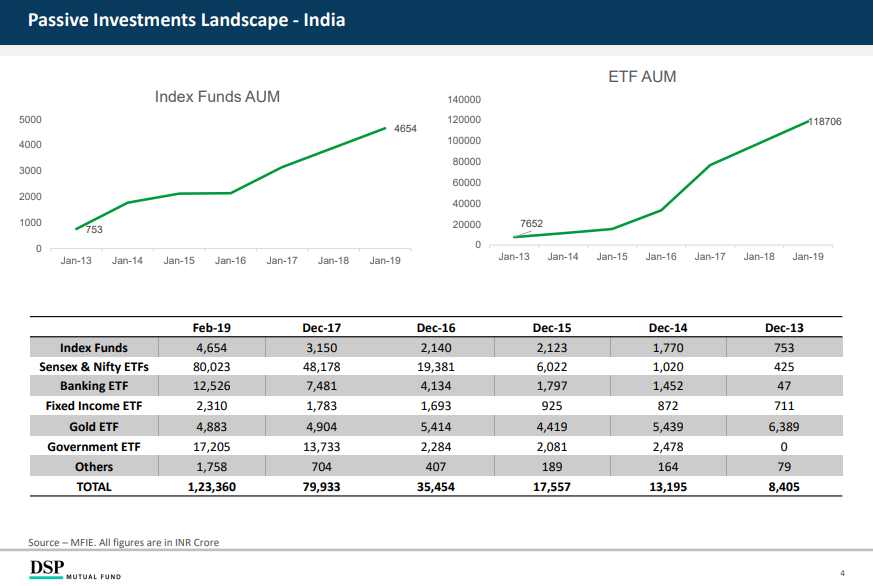 The point I am trying to make is the idea of passive investing in India has just starting to take root and once it does, I hope the landscape will resemble the data below:
Market share of equity and overall: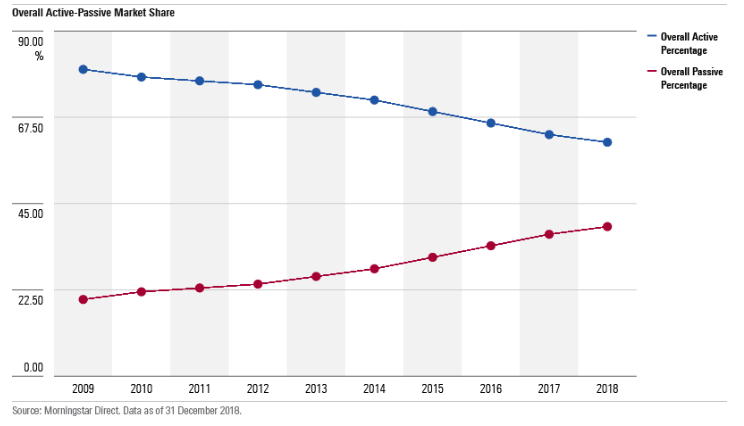 Here's the full Q1 fund fund flows report by Morningstar. Just look at the massive numbers.
Here are some select highlights:
Vanguard regained its momentum and dominated with $62 billion in first-quarter flows, which were more than its next three competitors combined. Its total U.S. assets crossed $5 trillion.
While overall equity demand was weak, passive U.S. equity demand was strong, and its market share hit 49% and could hit 50% in the third quarter.
The past two quarters undermine the argument that the move away from active is in any way cyclical. During 2018's fourth quarter, equity markets sold off and active U.S. equity funds got hammered with nearly $67 billion in outflows, while passive funds had huge inflows of $94 billion. Markets reversed in 2019's first quarter, but the results were similar. After one of the best first-quarter rallies in years, active U.S. equity funds still had nearly $28 billion in outflows, while passive U.S. equity funds had nearly $34 billion in inflows.
Just thinking about writing a similar post 10 years down the line in India is giving me the goosebumps. 🙂