Ok, here it goes. I've been meaning to write about this for a while now and this is a topic which is a bit near and dear to my heart. Let me set the context first, so bear with me, I know you have Netflix and Hotstar open.
The internet and the duopoly of Google and Facebook have fundamentally altered the media landscape forever. Today, media businesses are in serious trouble, the world over.
Newspaper subscriptions are falling off a cliff. Here's the circulation of newspapers in the US
This is pretty much the same across the developed world. In India, newspaper circulation numbers aren't growing but holding steady for now. But as digital penetration increases, old media will face the same fate, and that's a given. We are already seeing the signs.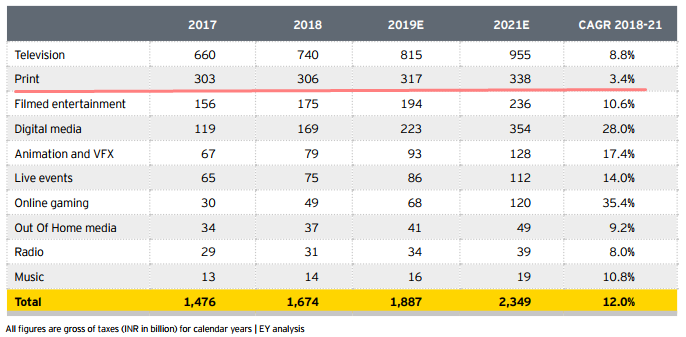 Newspaper ad revenues in the US have just nosedived while online revenues haven't offset them. Digital media was supposed to save traditional media, but the data says otherwise. With the duopoly vacuuming most of the ad dollars, media outlets are fighting over the remaining scraps.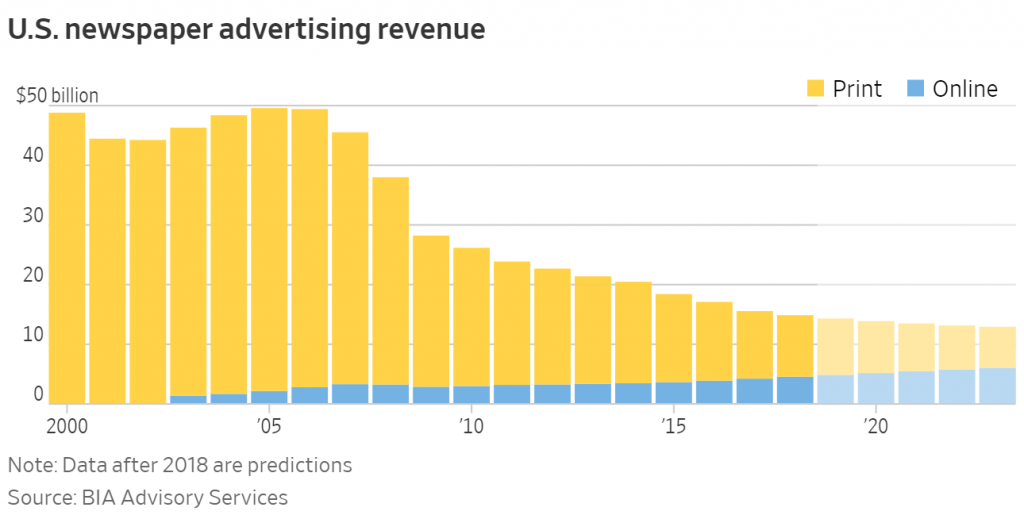 To give you a small idea of how much trouble digital media outlets are in
These are just the headline grabbers. There are plenty of national and regional digital media outlets they have folded.
So, with ad revenues falling off a cliff, media outlets resorted to a series of pivots. Almost all of the outlets hitched their wagon to Facebook, given that it is one of the biggest sources of referral traffic. But the thing about Facebook is that it doesn't give a shit about journalism and does things on a whim. In recent years, all the digital media outlets who pivoted to Facebook realized this after wasting millions and cutting thousands of jobs Speak of costly lessons!
So, media outlets then started betting on events, commerce, podcasts, and finally subscriptions. But not every media outlet can do these things successfully. Subscriptions are the saving grace for media outlets, but how will it work when there are multiple outlets competing for the same rupee or dollar? People will sooner or later experience subscription fatigue.
Here's a sobering quote:
But many publishing execs said the shift to subscriptions can also be sobering for newsrooms. The data, one exec said, shows that audiences don't value news enough to pay. "We've done a lot of research among non-subscribers and news is free to them," this exec said. "Our challenge is what do we have that isn't news."

Brian Morrissey /Digiday
Also, except for the New York Times, Financial Times, and The Wall Street Journal, and most recently The Guardian, there have hardly been any big legacy media outlets that have successfully diversified from advertising to a reader-supported model. And it took these outlets a long time.
Bloodbath!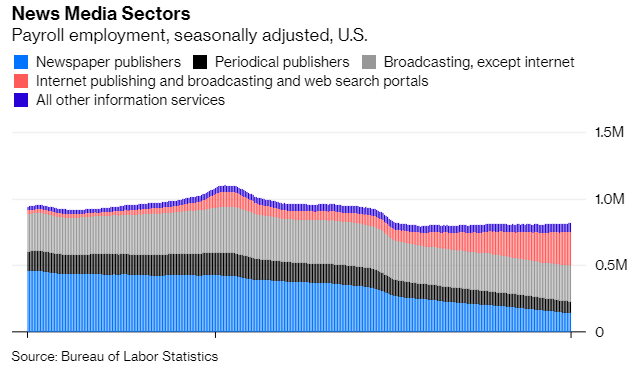 To add some context to the image, in the first 5 months of this year alone, over 3000 jobs were lost.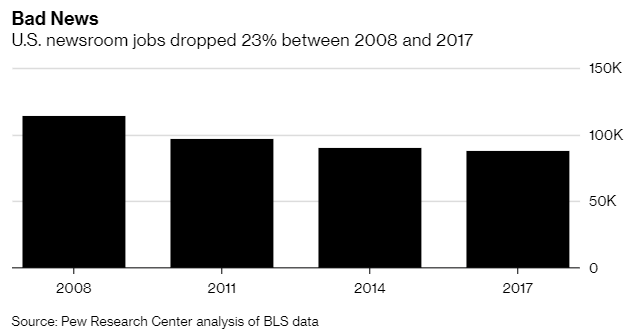 If you think I've just picked negative data points, I promise you, this is the sunny abridged version. If this were a detailed article on the state of media, it would be as fun as a tour of a mortuary. Nowhere is this more apparent than the plight of local news in the US. Since 2004, hundreds of local newspapers have shut down or merged leaving 1000s of communities without any news coverage leaving local elected officials unaccountable.
I've used data from the US because what happens there will eventually happen in India. Moreover, data on Indian media is hard to come by in India.
Coming back to the internet, it made news free, and we take it for granted. Quality journalism takes a lot of time, effort, and money. But how many of us do you think make a conscious effort to support and appreciate quality journalism?
Today, bar a few recent upstarts, and some legacy outlets, a vast majority of news outlets, online and offline are ad-supported. But we don't like ads, do we? We consciously skip them in newspapers and TV. Almost everyone uses an ad-blocker, even though they are paying for the free news that we read.
Globally, the decline of advertising revenues has forced news outlets toward seeking reader support. And in India, media outlets, both new and old, have slowly started adopting paywalls.
In the recent past in India, Business Standard, Newslaundry, The Ken, Moneycontrol, ET Prime, Bloomberg Quint, Scroll+ have put up variants of leaky paywalls (free and paid). Moneylife went fully digital. Then there are amazing independent publications like Capitalmind, which is paid, Freefincal, which is ad-supported and has an ad-free option and Finception, which is free so far and countless other awesome independent blogs. They won't survive and thrive without your support.
The Ken recently revealed that it has 15,000 paying subscribers. Just to give you some context, the NY Times has 3.3 million subscribers, WSJ has 1.5 million subscribers, Financial Times has over 740,000 subscribers. So, a million miles to go. And it is possible only if you and I support our favorite publications.
But the question remains, will Indians pay for news? Here's what Ananth Goenka of IE had to say a while ago:
Four years back, I had said that Indian Express website would be the first Indian news website which would go behind a paywall. I take all of that back. There is no way that would work in the Indian context. If there is one group of people who would pay for the news online, it would be the NRIs.

Anant Goenka, Executive Director, The Indian Express

The quote aside, without the hard work of muckraking journalists who pound the pavements, some of the biggest scams would have remained hidden. Since this so-called blog is supposed to be about the markets, good journalists are vital in keeping markets clean. The recent IL&FS saga is an example. Without media organizations assigning serious resources, the series of exposes wouldn't have been possible. Just imagine a world where the Satyam's, NSEL's, Nirav Modi and other big scams remaining hidden?
Not just that, many of us rely on ad-supported sites like ET, Moneycontrol, Freefincal, Value Research, among others to make investment decisions. And yet, we block ads on these very sites. Hey, I don't blame you, these ads are intrusive, distracting and annoying, but it's the price you have to pay to support these sites.
And it doesn't take much to support paid media either. As patronizing as it sounds, a coffee costs say Rs 15, that's Rs 5475 a year. A Ken subscription costs Rs 2750 bucks, and it's good for your brain too. Again, this is the wrong way to drive home the point but can't help it.
And if a website doesn't have a paywall, then just whitelist it on the adblocker you use – don't be an asshole! You blocking an ad hurts their revenues!
I'm no saint either, and I don't mean to sound holier than thou. I mooch news articles, block ads, read pirated magazines and use incognito windows to get over metered paywalls. But no longer and I hope you will join me in supporting quality journalism.